About us: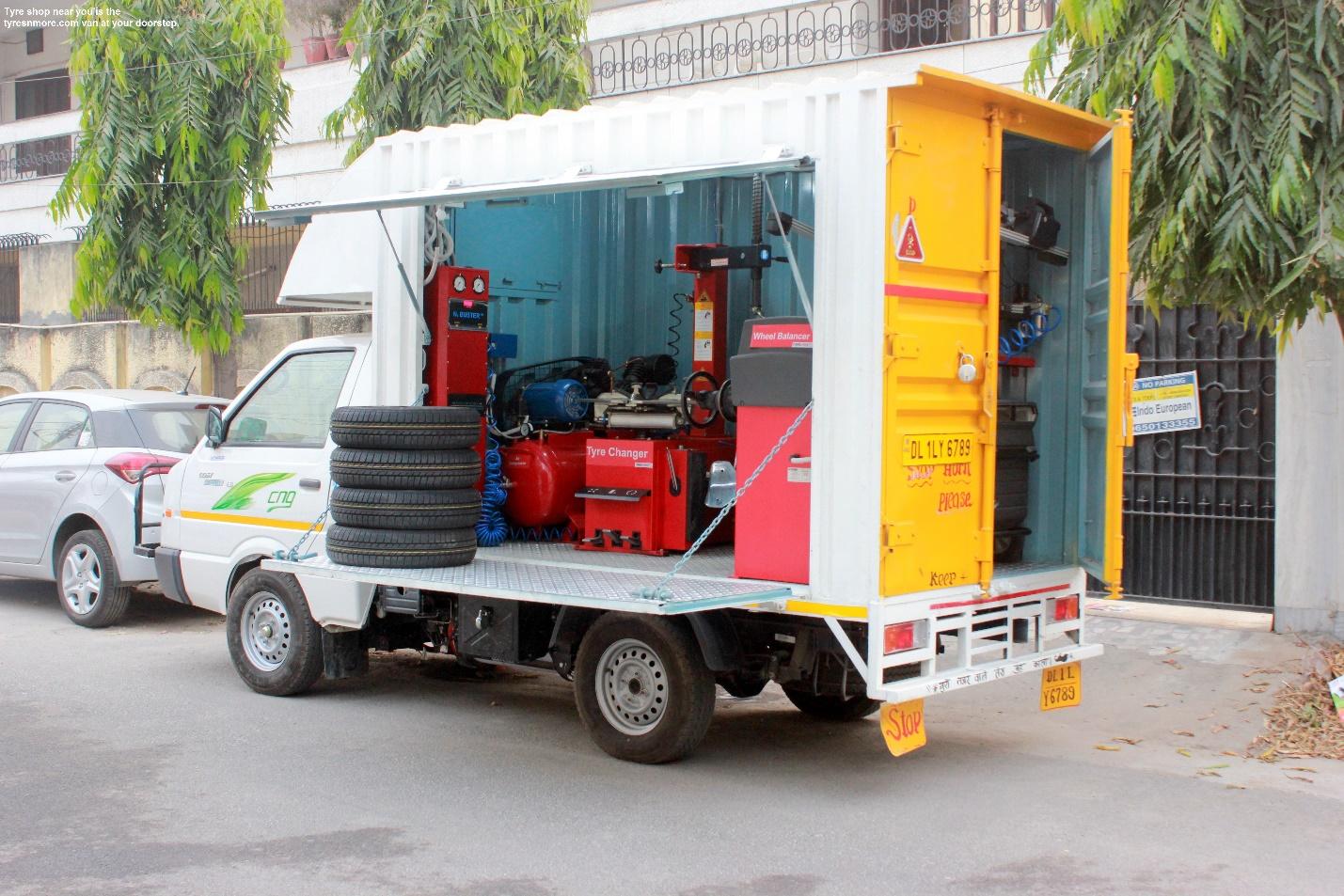 TyresNmore.com is India's premier website on an e-commerce platform that provides
Tyres & Batteries
Delivered and Fitted at your Doorstep
How does Tyresnmore benefits the customer?
We have seen an opportunity in the fact that tyre and battery customers are not aware of various
aspects which do not get disclosed unless you really dig , when you are buying these products.
Built into our platform is all the information so that you can make an informed decision.
- Large range of tyres – Buy what suits you , not what suits the seller
- Updated prices - Our team has worked hard to get you competitive prices
- Features and Benefits of Products – Know what you are buying
THE BEST PART: Our experts will come to your doorstep and fit the tyre or battery of your choice.
How Does Tyresnmore benefit the tyre or battery manufacturer?
PRODUCT DISCOVERY : The tyre manufacturer or the battery manufacturer spend a lot of money on
developing a product and you will be surprised to know that most of their products are categorized
based on driving styles , technology upgrades etc. The customer does not discover the product because
the brick and mortar store does not have the space or capital required to showcase all the products. At
Tyresnmore we do that very capably.
LOCATION AGNOSTIC : A tyre manufacturer does not need to open retail outlets and maintain them –
with Tyresnmore , all the products can be accessed in a few seconds on the mobile phone of the
customer from the comfort of their homes.
THE BEST PART: Our experts will come to your Customers' doorstep and fit the tyre or battery or we
provide HOME DELIVERY through a reliable courier company.
Doorstep Delivery, Fitment available in
Delhi,Gurgaon, NOIDA, Bangalore, Hyderabad, Pune, Pimpri Chichwad, Mumbai, Navi Mumbai and
Thane. We are working very hard in expanding this service to all cities in India. We will get there very
soon!
Home delivery of tyres & batteries: All other major cities of India. From Srinagar to Kanyakumari, we
can get your tyres , batteries to your desired location. The delivery times may differ based on different
conditions, but we will get to you for sure!
We provide widest range of two-wheeler and car tyres as well as batteries, at competitive prices,
assured warranty, along with unique convenience of doorstep tyre fitment and battery replacement
service at customer preferred location and time.
TyresNmore launched its doorstep tyre fitment services in 2014 in Delhi. Within a span of 6 years,
TyresNmore has launched its car and two-wheeler doorstep tyre fitment service in 12 locations - Delhi,
Bangalore, Hyderabad, Pune, Mumbai, Navi Mumbai, Thane, Gurgaon, Faridabad, Noida, Great Noida ;
Ghaziabad. TyresNmore has also expanded the offerings to doorstep replacement of batteries along
with tyres in all 12 locations.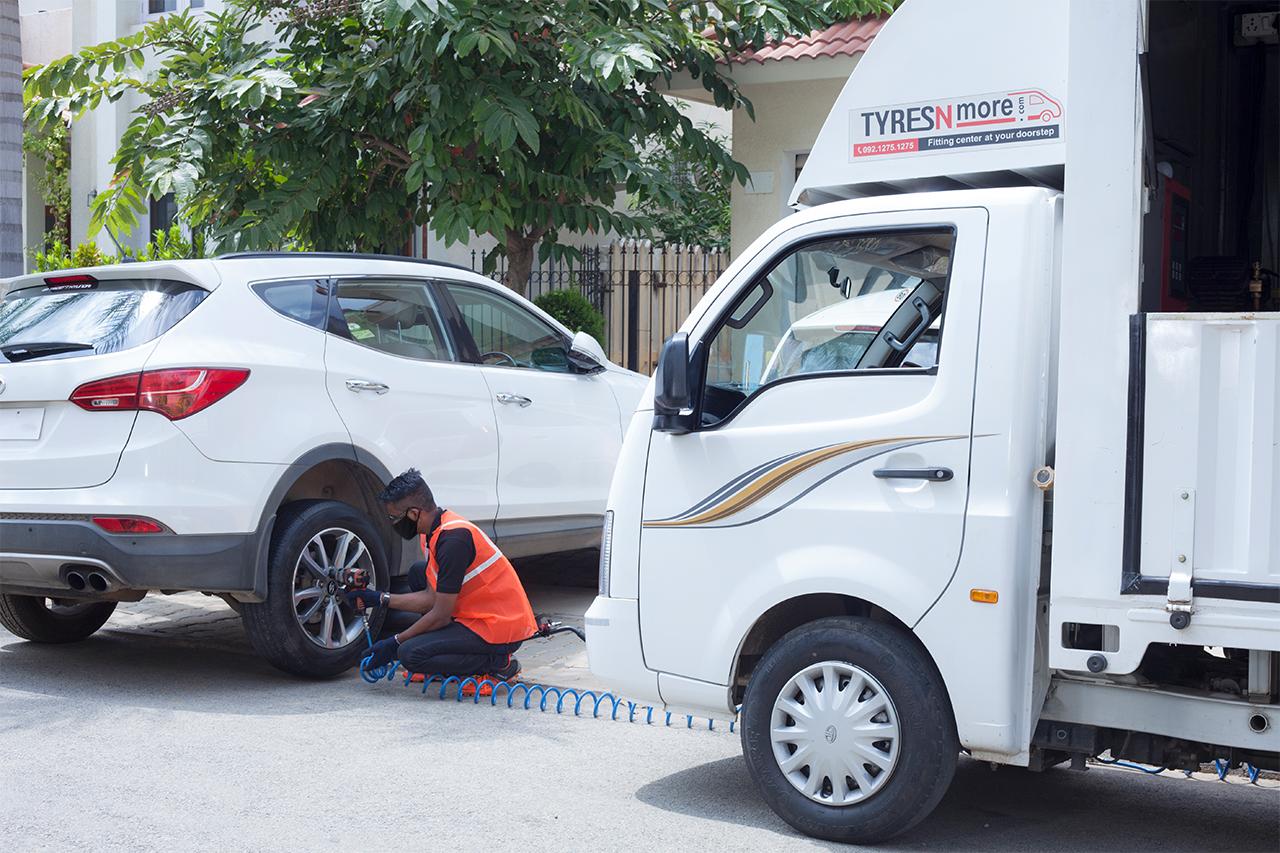 Our Mission
To be the most preferred destination for online tyre & batteries purchase across India and a household name for tyre fitting and battery replacement.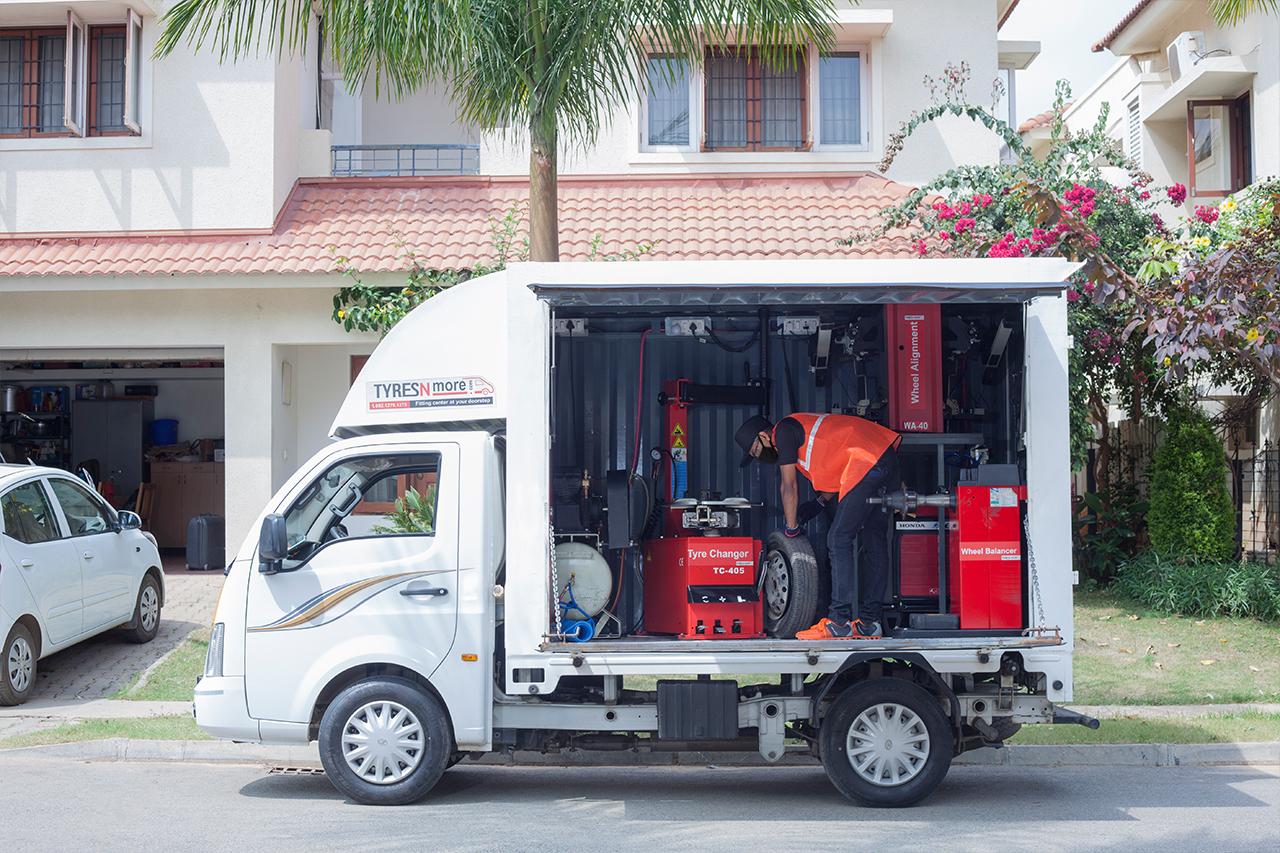 Our Vision
Healthy tyres & batteries are elementary for safe and pleasurable driving experience. Our vision is to help customers keep their two-wheeler and car tyres & batteries always in the perfect condition, all from the convenience of their homes.
Our Values
We help our customers drive safer. Therefore, our customers are at the core of all things that drive us. Our value system centres around our "Customer Charter" – the bold promise that every member of the Tyresnmore family delivers:
Our Customer Charter:
Utmost safety of your family and vehicle –

we service your tyres & batteries with utmost precision for your safe journey.

Your convenience is our first priority –

doorstep delivery, tyre & battery replacement, wheel alignment and balancing – we make it come to your home or office when you need it.

100% guarantee on brand new products –

every tyre & battery is sourced fresh from genuine tyre & battery makers to protect you from buying used or re-traded products.

Genuine brand guarantee –

Our products will come to you with genuine, company-backed, brand warranty.
"I recently had a very pleasant experience with tyresnmore.com - I checked them online, they were responsive to my needs, had competitively priced products and most importantly, delivered, replaced and balanced tyres on my car at my doorstep. I would happily recommend them to other customers." - a happy customer from DLF Phase IV, Gurgaon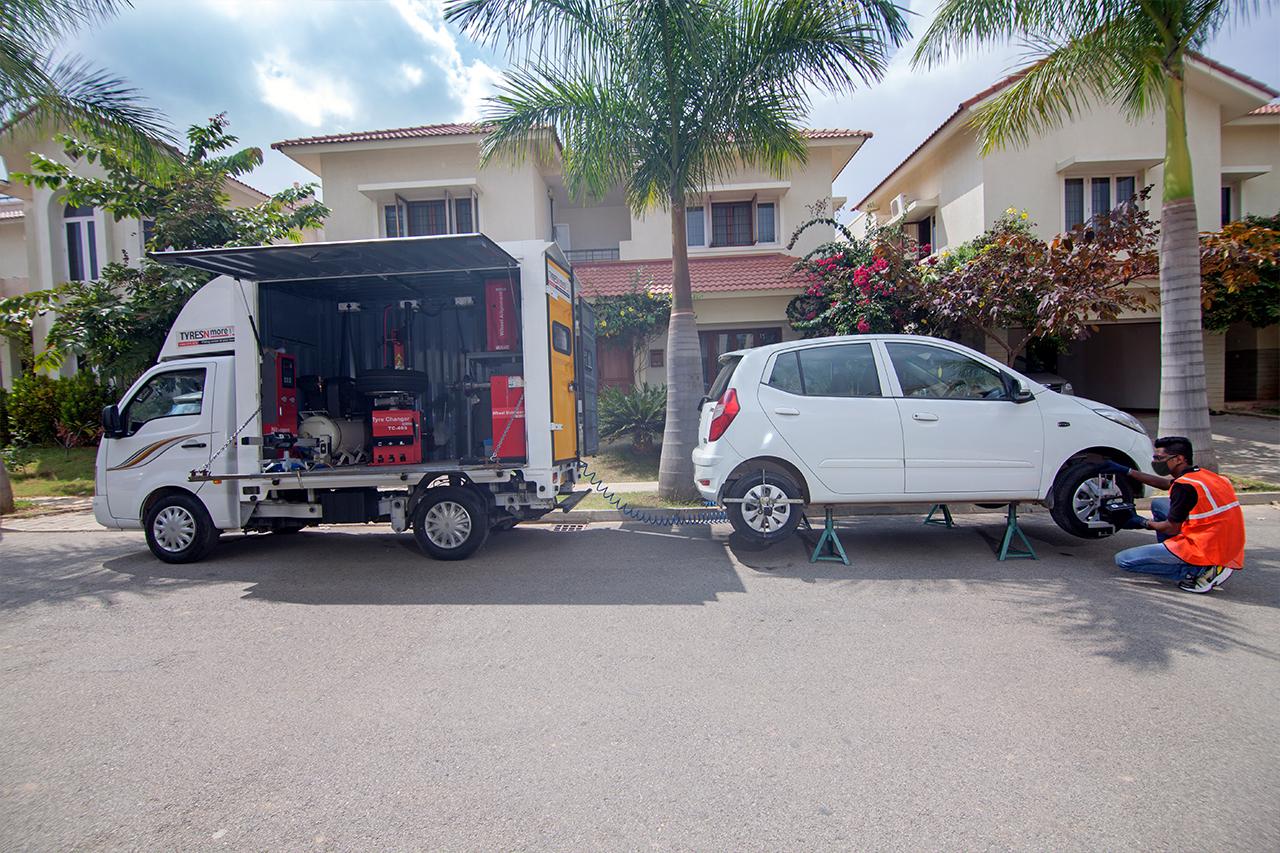 Our Model
TyresNmore is committed to provide genuine tyres and batteries with unmatched convenience of getting them fitted to your vehicle at a time and place of your choice.
Tyresnmore.com is an advanced marketplace that hosts renowned and trusted tyre & batteries brands with genuine products, sold and delivered directly to customers. Products that you select on our ecommerce site are sourced from verified and authorized sellers, which are then shipped and fitted at your doorstep by our service teams.
Backed by a robust technology platform, an extensive team of tyre and battery experts, technicians and logistics handlers, we provide the best match for your vehicle through our large selection of tyres and batteries. We make the end-to-end tyre & battery buying and fitting process for vehicle owners seem like a breeze! What's more, we offer wheel balancing and alignment with all tyre fitment orders executed at your doorstep.
Convenience at your fingertips, product delivered and fitted at your doorstep!
Owning a car & two-wheeler can be real fussy when it comes to its maintenance and servicing. Especially, when it comes to taking care of the tyres & batteries. Getting them changed or maintained can be a painful and time taking process.
But with us, you have the complete luxury to:
Search the right product from the widest range of tyre & batteries brands right on your mobile phone

Get authentic product reviews and expert suggestions

Select the right product at the most competitive price point

Schedule a fitment service at your doorstep as per your convenience with expert technicians
Which means, you can avoid time-consuming, unpleasant experience at a tyre shop with limited availability of products and high-prices.
"Great service, fantastic concept, wonderful experience of getting tyres fitted at home." - a working professional from South Delhi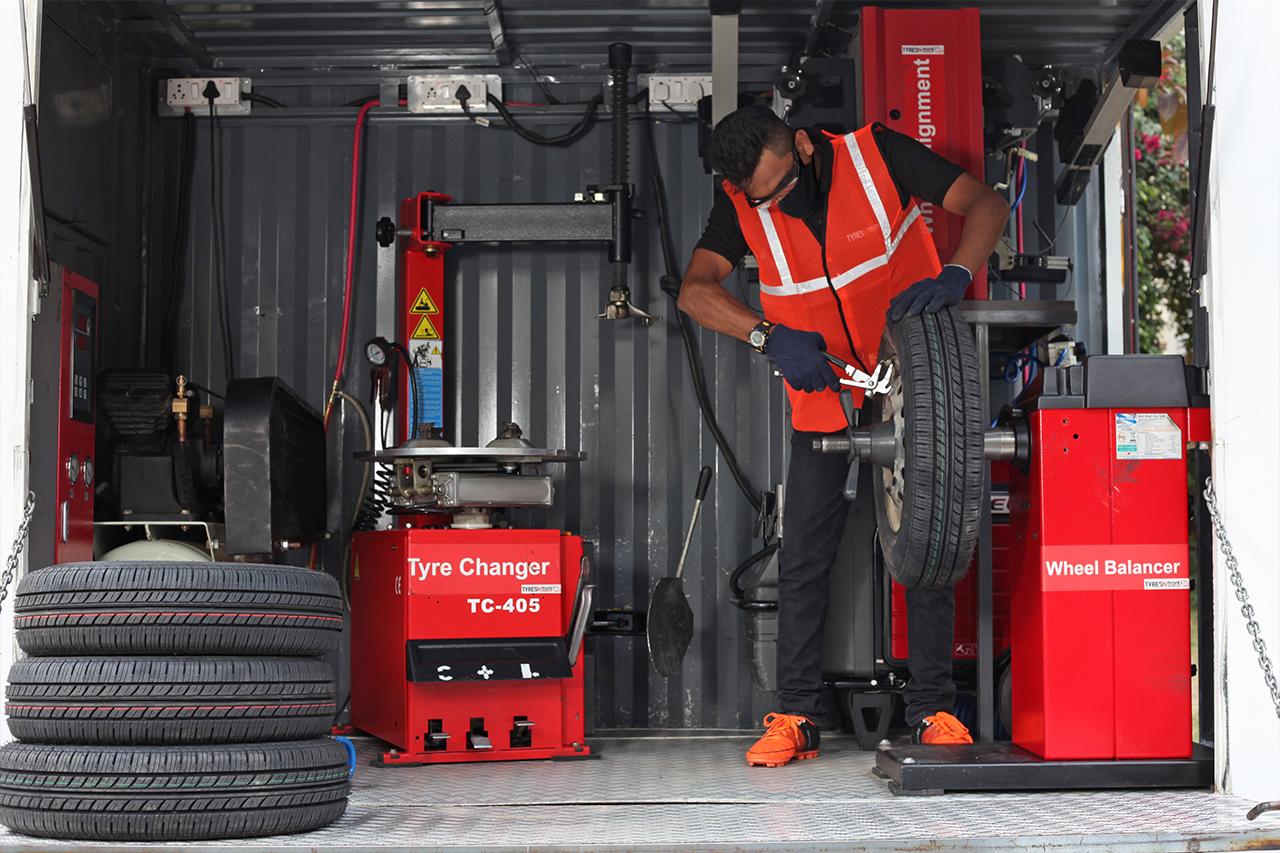 Buy tyres in 3 easy steps!
TyresNmore has a simple user friendly online process:
The user selects the required tyre or battery as per the vehicle model on Tyresnmore.com

In case, the user needs any assistance in selecting the right tyre, he/ she has the option to speak with TyresNmore's tyre experts over call or simply drop us a message on our WhatsApp Chat.

Once the order is placed, delivery and fitment service is scheduled via call taking into consideration customer's convenience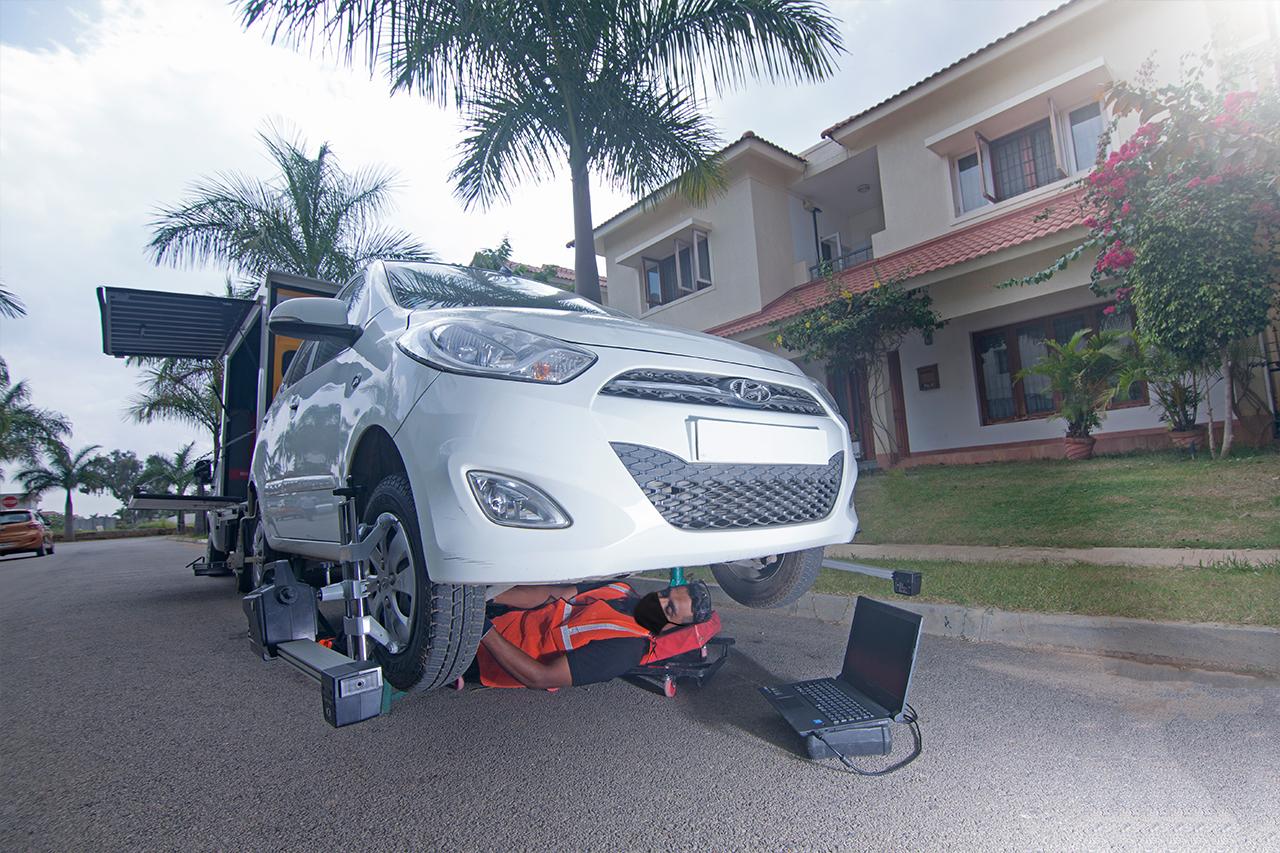 Owing to the robust supply chain practices followed, TyresNmore takes pride in low turnaround time (TAT) of less than 24 hours as compared to big online retailers, such as Amazon and Flipkart, whose TAT is 5-7 days. This is another key USP of the business leading to higher customer satisfaction.
Our expert technician crew arrives in a fully-loaded and well-equipped mobile van to deliver the best-in-class service to you. Take a 360-degree look into the van here:
https://www.seeinside.link/catalog/d7cf110ec42c4ffea92c/TYRESNMORE.html
"Very good service, van reached on time, great coordination, ultimate service. Thank you Tyresnmore!" - a businessman from Bangalore
Browse through the widest range of tyres online
1000+ tyres & 60+ batteries for 900+ car models & 140+ two-wheeler models across all segments including budget and luxury vehicles.
We have one of the largest product catalogue to buy tyres online in India!
Our inventory is updated on regular basis to add new launches of car & two-wheeler models and as well as tyres and batteries.
Our tyre brand portfolio include Apollo Tyres, CEAT Tyres, MRF Tyres , JK Tyre, GoodYear Tyres, Michelin Tyres, Bridgestone Tyres , Yokohama Tyres, Hankook Tyres, Kenda Tyres, Continental Tyres, Dunlop Tyres, Nankang Tyres, and other tyre manufactures while battery brand portfolio include Amaron, Exide and many more on the way to be introduced.
In the odd case of you not finding a car or tyre on our catalogue, please give us a call on 9212751275. We will be obliged!
Genuine Product Promise
If you have ever gone through the old way of buying tyres & batteries, you know the risks of ending up with used, duplicate, non-authentic products. And the worst is that you may not even realise it.
At Tyresnmore.com, we have a no-compromise policy for driver and passenger safety. Therefore, we deliver exactly what we promise to you.
We have built a strong supply-chain that ensures every single tyre & battery dispatched from our operations centre is quality-checked and 100% genuine. We have forged strong relationships with tyre & battery manufacturers that gives us guarantee and complete support on the quality of products sold by us.
When you buy tyres & batteries from Tyresnmore.com you will get exactly what is shown to you.
All tyres & batteries sold by us are 100% brand new and genuine.
Your safety heavily depends on the tyres & batteries of your car and two-wheeler. We make no-compromises in that.
Further queries
For any queries, concerns, or expert advice to choose the right tyres and batteries for your car and two-wheeler, please feel free to call our customer care number - 092.1275.1275 or send us a message by clicking on the WhatsApp button below.